SKY Castle (2018)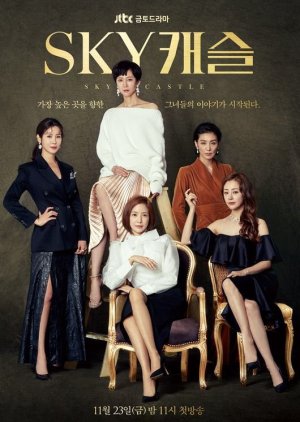 SKY Castle, nama kota pribadi mewah tempat tinggal dokter dan profesor yang kaya. Itu dibangun oleh presiden pertama universitas Joo Nam, yang merupakan universitas terbaik di Korea. Sebagian besar penghuninya adalah dokter dan profesor sekolah hukum universitas. Drama ini menggambarkan semua seluk beluk tentang bagaimana wanita bangsawan membuat anak-anak mereka masuk universitas terbaik. Ini adalah drama satir komik yang dengan cermat melihat di balik layar pada keinginan materialistis dari orang tua kelas atas di Korea, yang dengan penuh semangat mendorong rencana mereka untuk membuat suksesi keluarga mereka dari dokter dan pengacara, dari ayah ke anak.
Title: SKY Castle
Synonyms: SKY Kaeseul
Native: SKY 캐슬
Country: South Korea
Type: TV
Status: Completed
Score: 9.2
Year: 2018
Release Date: Nov 23, 2018 - Feb 1, 2019
Network: jTBC
Genre: Comedy, Drama, Family, Life, Medical, Mystery, Psychological, School, Tragedy
Duration: 1 hr. 15 min.
Rating: 15+ - Teens 15 or older
Reminders: If a video doesn't load, make sure to turn off your pop-up blocker or try restarting your browser. SKY Castle (2018) subbed episode listing is located at the bottom of this page.
SKY Castle (2018) Episodes